Secure Shopping

SECURE SHOPPING GUARANTEE
Because To Follow Him takes credit card information security seriously, we have implemented a variety of technical and procedural controls to ensure transactions on our site remain private and protected.
SECURE SOCKET LAYERS (SSL)
To ensure the information you provide online is secure during transmission, we employ leading edge encryption technology and Secure Socket Layers (SSL) while processing any personal information you supply.
You can also review our security certificate using your browser by clicking on the closed lock or solid key image at the bottom of your browser on any of the secure pages on our site. This will display our site security information. If you have any additional questions, please contact us.
To be sure you have the maximum protection available, we strongly advise that you download and install the latest version of your browser.
What is PCI DSS Compliance?
The Payment Card Industry Data Security Standard (PCI DSS) is an information security standard for organizations that handle credit card and debit card information. Defined by the Payment Card Industry Security Standards Council, the standard was created to increase controls around credit card data to reduce credit card fraud via its exposure.
If we want to sell online and accept payments from Visa, Mastercard, American Express or Discover credit cards, our software and hosting needs to be PCI compliant.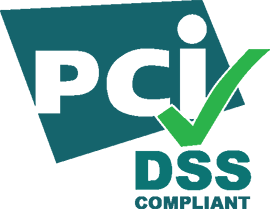 We MEET all 6 categories of PCI standards

Maintain a Secure Network


Maintain a Vulnerability Management Program

Implement Strong Access Control Measures

Regularly Monitor and Test Networks

Regularly Monitor and Test Networks

Maintain a Secure Network


Maintain a Vulnerability Management Program

Implement Strong Access Control Measures

Regularly Monitor and Test Networks
Maintain an Information Security Policy